💌 Stuff You Should #13: September 2018
Horse girls, Chinatown memories, Silicon Valley scammers, and more.
Hi! You're reading a monthly newsletter in which I, perpetual opinion-haver Laura Reineke, share with you some Stuff that I endorse. Got stuff you think *I* Should? Reply to this email or holler at me on Twitter @ohonestly. Thx for reading. Love u.
---
---
👋 Know About Me
Are you tired of hearing me whine about the heat/humidity/sweating all the time? Because I'm super tired of it, I promise you, but it seems to be all I'm good for at the moment. There are lots of vague thoughts floating around in my brainspace these days, half-baked observations about everything from my complicated relationship with my body to my complicated relationship with algorithmic timelines on social media, but ughghg articulating stuff is just so tiring, you know? Anyway it's been so long since my last newsletter than I have many MANY strong recommendations for stuff you should. Please clap.
---
Ring ring, it's me
---
🔗 Read Online
Giddy Up, Girlfriend! - Long-time readers will know I looove learning about NICHE INTERESTS and the people who travel far and wide and spend so much money to indulge them, so of course I lost my damn mind over this peek inside an annual meetup of fans of BREYER HORSE FIGURINES. It's wonderful. (Gray Chapman/NYT)
Jonathan Franzen Is Fine With All of It - I've never "Oh, well in THAT case"-d faster than I did when I realized that Taffy Akner was behind the Jonathan Franzen profile I planned to refuse to read. Leave it to her to make my least favorite author and "public intellectual"...well, if not likable, at least more human-seeming. (Taffy Brodesser-Akner/NYT)
How an Ex-Cop Rigged McDonald's Monopoly Game and Stole Millions - If you haven't read this yet, you should. It's gonna make a wild movie. (Jeff Maysh/The Daily Beast)
Of Flying Squirrels and Yard Goats [2015] - When the owners of minor league baseball teams need to inject some freshness and personality into their clubs' branding, they turn to one particular sports marketing company. (Alan Siegel/Slate)
Long Live Chinatown, Especially When I'm Gone - On the allure of a neighborhood, and the choice - if it's ever a choice - to stay or leave. (Xuan Juliana Wang/The Cut)
Body Positivity Is a Scam - "In the context of advertising, women's self-perceptions are invented out of whole cloth, with no apparent connection to the circumstances of their lives. And so we have the marketing landscape as we know it now, courtesy of Dove: gentle, millennial pink, and passive-aggressively reproachful of women who have allowed themselves to feel bad about their bodies." (Amanda Mull/Racked)
A Journey Into The Dark Heart Of Celebrity Relationship Conspiracy Theories - Why do people obsess over relationships between celebrities, often to the point of fabricating them entirely? What do they get out of it? And why is it so harmful? I've waited for a piece like this for years. (Zan Romanoff/BuzzFeed News)
---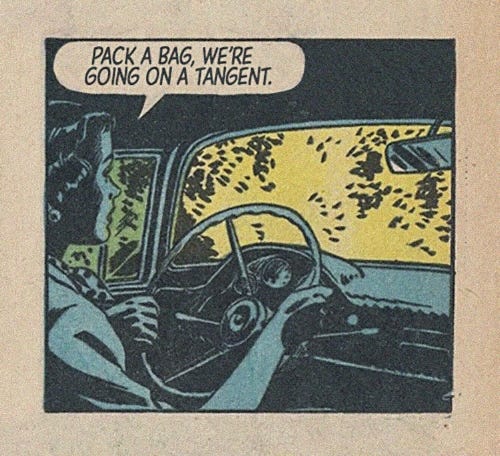 ---
👍 Follow
Austin Kleon's weekly newsletter - On his website - where he still writes a blog! Like the olden days!! - and his social accounts, author/artist Austin Kleon shares a never-not-interesting array of artwork, quotes, book/film recommendations, and insights into his life as a working creative and father of two. I've followed this guy for like, over a decade now? And still find him to be one of the most interesting people on the internet.
---
🗣️ Quote
"How we spend our days is, of course, how we spend our lives. What we do with this hour, and that one, is what we are doing. A schedule defends from chaos and whim. It is a net for catching days. It is a scaffolding on which a worker can stand and labor with both hands at sections of time. A schedule is a mock-up of reason and order—willed, faked, and so brought into being; it is a peace and a haven set into the wreck of time; it is a lifeboat on which you find yourself, decades later, still living." - Annie Dillard
---
📖 Read Elsewhere
A Colony In A Nation by Chris Hayes - If, like me, you grew up (or still live) in a majority white community, the framework proposed here for conceptualizing systemic police violence against people of color in America is illuminating and helpful.
Bad Blood: Secrets and Lies in a Silicon Valley Startup by John Carreyrou - Do you like SCAMMERS and INVESTIGATIONS and RICH PEOPLE MAKING DUMB DECISIONS? Then this one's for you. In exacting chronological detail, a journalist describes how an ambitious young woman built a company that was poised to disrupt the multi-billion dollar blood-testing industry - until everyone found out it was a house of cards built on faulty science and intimidation.
The Mothers by Brit Bennett - Loved this bittersweet debut novel, which follows a trio of teens during and after a summer of hard choices. Bennett layers on nuance to her characters' inner lives and relationships in a way that kept me totally absorbed.
---
Just got so excited about a women's razor ad showing actual hair being shaved that I wanted to buy the razor as like a "thank you" to the company?? Capitalism and patriarchy are Schedule 1 drugs y'all
---
🎧 Listen To
Your favorite album from your sophomore year of high school - Next time you're feeling even a teensy bit blah, queue up your favorite album from your sophomore year of high school and listen to it all the way through. You will feel better. (Mine, fwiw, is Mae's "The Everglow" [2005]. Pop punk forever.)
The McElroy Brothers Will Be In Trolls 2 - I am...not entirely sure how to describe this podcast? "D-list pseudo-celebrities concoct plan to appear in sequel to children's movie and build podcast in the style of prestige documentary around their exploits in real time"? Sure. It's weird and fun and actually pretty illuminating about the process of climbing aboard a big-budget Hollywood project.
Why Is This Happening? - My enjoyment of A Colony In A Nation prompted me to check out Chris Hayes' new-ish podcast of hourlong chats exploring the roots of big trending topics (political tribalism, the housing crisis, mass incarceration, climate change, etc.). Hayes is great in this format - he's an engaging, curious conversationalist, and his expert guests are deeply sourced. The rare podcast that could stand to double the length of its episodes, IMO.
---
🗣️ Quote
"We look at the world once, in childhood. The rest is memory." - Louise Glück
---
📺 Watch
Vanderpump Rules - I can't remember life before I started binging this addictive Real Housewives spinoff, which zooms in on the relationship melodramas simmering between the bartenders and servers at Lisa Vanderpump's SUR (which is an acronym for, I swear to god, "Sexy Unique Restaurant"). These people have very little going for them other than their good looks, and yet I find them utterly fascinating. The first two seasons are constructed with a chef's-kiss-perfect emotional payoff that rivals any Shonda Rhimes show at its best. (Hulu)
To All The Boys I've Loved Before (2018) - This HELLA endearing teen rom-com features cute clothes, beautiful photography, and a pair of leads so friggin' adorable and charismatic you'll wanna clutch them to your chest to protect them forever. (Netflix)
The Tale (2017) - Laura Dern plays a documentary filmmaker determined to confront the reality of her first sexual relationship in this powerful and disturbing examination of the narratives we tell ourselves to get by. This one's gonna stick with me for a long time. (Amazon Prime)
---
Commuting with a new friend
---
☀️ My Forecast
Taking a couple trips westward. Starting to think about how to celebrate turning 30 in December. Hopefully making a dent in my "to read" list. Also wanna try baking a fancy cake of some kind because why not?
Thx for reading,
xo Laura